When looking at Mary Webster's alien erotic art, one is confronted with strong imagery, that although vulgar, is provocative and interesting. Watercolors and ink illustrations combine nude art with...
When looking at Mary Webster's alien erotic art, one is confronted with strong imagery, that although vulgar, is provocative and interesting. Watercolors and ink illustrations combine nude art with surrealism and abstraction. Incorporating humor into her art, the artist depicts fetishes, sexual fantasies, and scenes of debauchery while embracing various forms of sexuality and eroticism. The artworks do not shy away from morbid and even macabre scenes and imagery.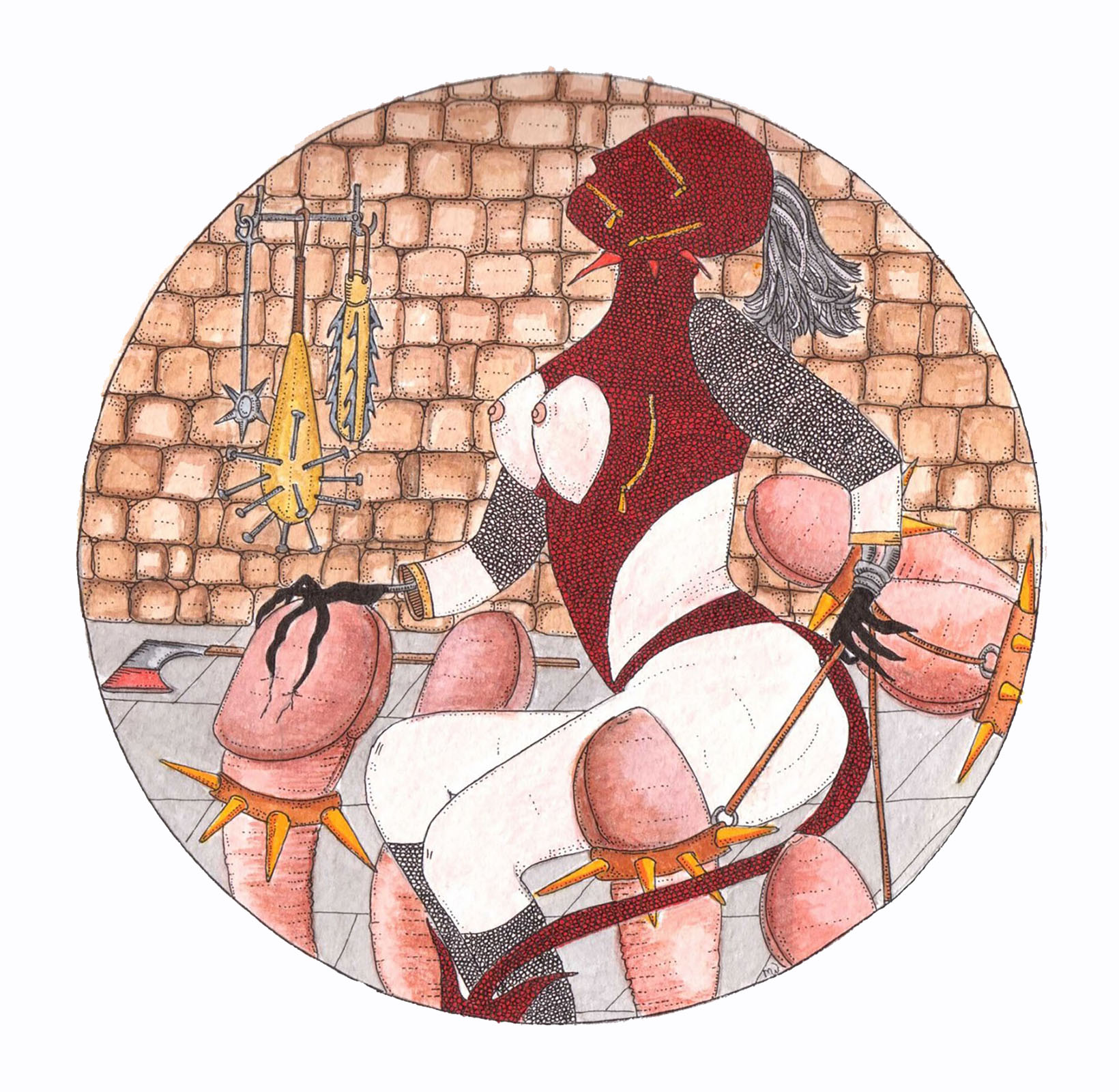 Initially starting with depictions of body modifications and subjects losing themselves to carnal desires, the artist developed her erotic illustrations into serialized works. Webster's work evolved into incorporating scenes with alien figures engaging in sexual encounters, going about their daily routines, and even portraits of them. The Alien series combines a love for science-fiction and erotica. Additionally, the series embraces vulgarity through unique characters named after the obscene slang terms for male and female sexual genitalia—dick and cunt.
As a self-taught visual artist currently based in the United Kingdom, Webster's preferred medium is illustrative watercolors and ink pens. With no established studio space, the artist creates art from the comfort of her home. Her creativeness and ideas usually manifest themselves in the nighttime, often leading to the artist going to bed with her sketchbook. Ideas come while gazing onto the garden, looking out a window, or even while traveling. Usually, night or travel sketches are completed at a later date in the artist's dining room on a small card table. While completing an artwork, classical music plays in the background, and the artist can spend a whole day working on a single piece. English composer Ralph Vaughan Williams, Italian pianist Ludovico Einaudi, and choral composer Gerald Raphael Finzi are among some of the music listened to while drawing. Living alone is a benefit for the artist as she can fully immerse herself in her art, free from any distractions.
Mary's earlier work
Growing up in Peterborough, Webster began creating art at the early age of thirteen. As an adult, however, she pursued a career in nursing. It was not until 2009 when she embraced her passion for art and created her first erotica collection while continuing her job as a nurse. Though formally pursuing art as a career until late, ideas for illustrating the erotic infused with the macabre, such as body mutilations, date back to the 1980s. One of her earliest pen and ink drawings created in 1985 features an elegantly dressed woman getting her head blown up. And, in 2004 while experimenting with ceramic painting, she created a small vase adorned with vibrant and cheerful colors and floral motifs dramatically juxtaposed by severed feet.
Her interest in the perverse stems from the idealized, eroticized, and fantastical world of sexual narratives present in shunga, Japanese erotic art. With the literal meaning of the term being pictures of spring, the word shunga is a wordplay on spring being a common euphemism for sex. Shunga consists of ukiyo-e woodblock prints illustrating sexual encounters in nonrealistic positions and figures depicted with exaggerated genitalia. More specifically, Webster's works include elements of ero guro, a subcategory of Japanese erotica characterized by erotic and grotesque nonsense focusing on sexual taboos and decadence. Ero guro works depict scenes full of sexual corruption and self-indulgence. Furthermore, the term's definition refers to something being erotic and grotesque at the same time. It is important to note that the grotesqueness referred to in ero guro alludes to things that are malformed, unnatural, or horrific and not necessarily depictions of gore.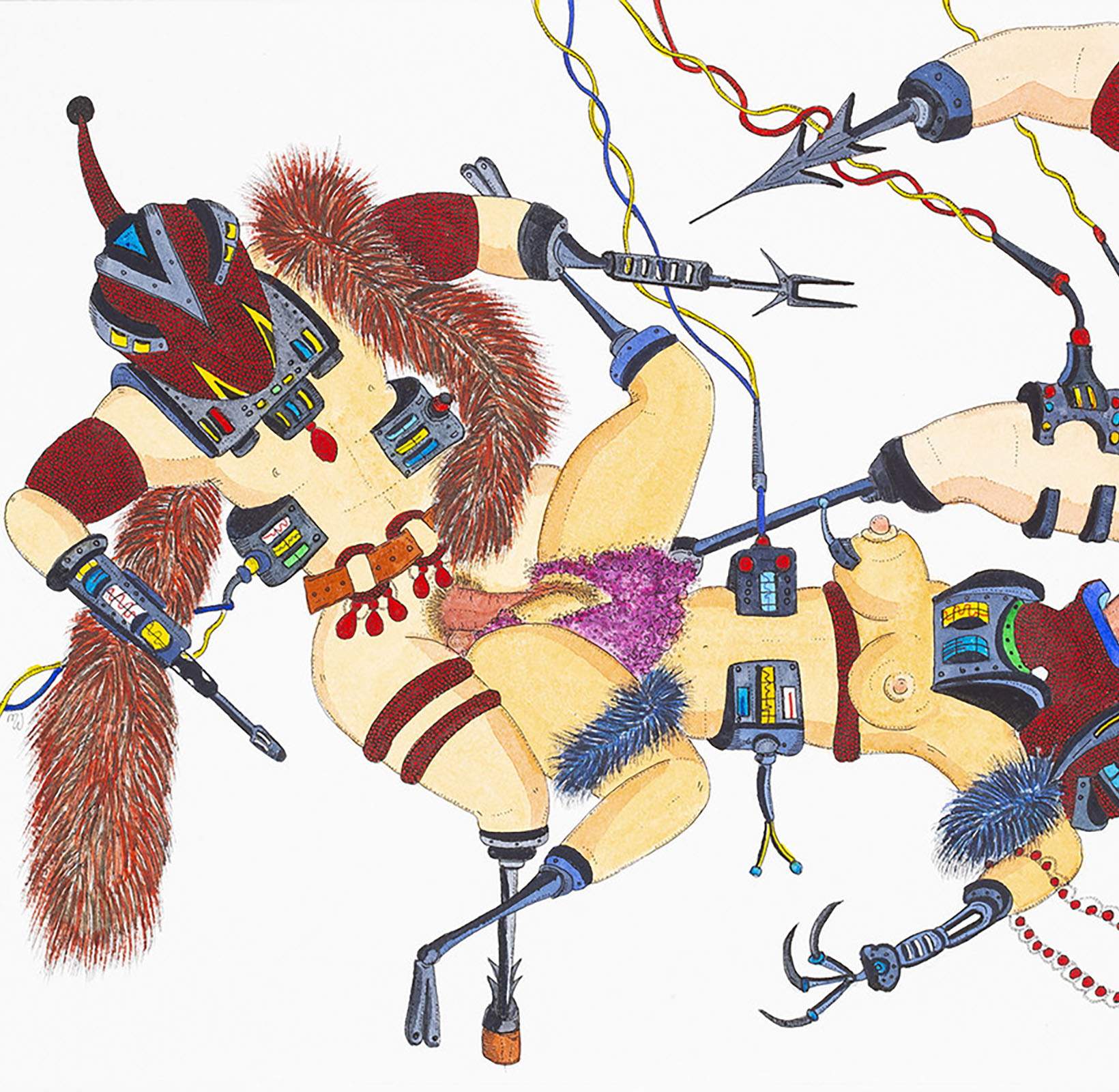 Exposure to this Japanese art style and other artists exploring similar concepts greatly influenced Webster's artistic development. She openly embraced images capturing erotic and disturbing depictions of sexual and pleasurable encounters. Some of her contemporary influences and inspirations include the work of the "Godfather of Japanese Erotica," Japanese painter Toshio Saeki. Saeki's works combined humor and gore with traditional Japanese motifs of folklore. Similarly, Webster's work combines satire with body modifications and fetishes. Additionally, her works closely emulate Saeki's overt and even playful approach to sexual taboos and depiction of shameless and immoral fantasies.
Webster's work is exquisite and challenging. Most of her works explore eroticism through sensual surreal scenes depicting body mutilations such as missing body parts or mechanical limbs. The morbid scenes present in her artworks come from her imagination, and everything she draws is her unique invention. Mainly getting her ideas from items around her house, such as a SEBO vacuum cleaner or a hand mixer, appliances often appear in Webster's illustrations as devices for torture, penetration, and pleasure. The use of household items symbolizes the epitome of debauchery. Also, the artist's knowledge and experiences in the medical field come through in her watercolors as they often include imagery of medical equipment such as syringes and gloves.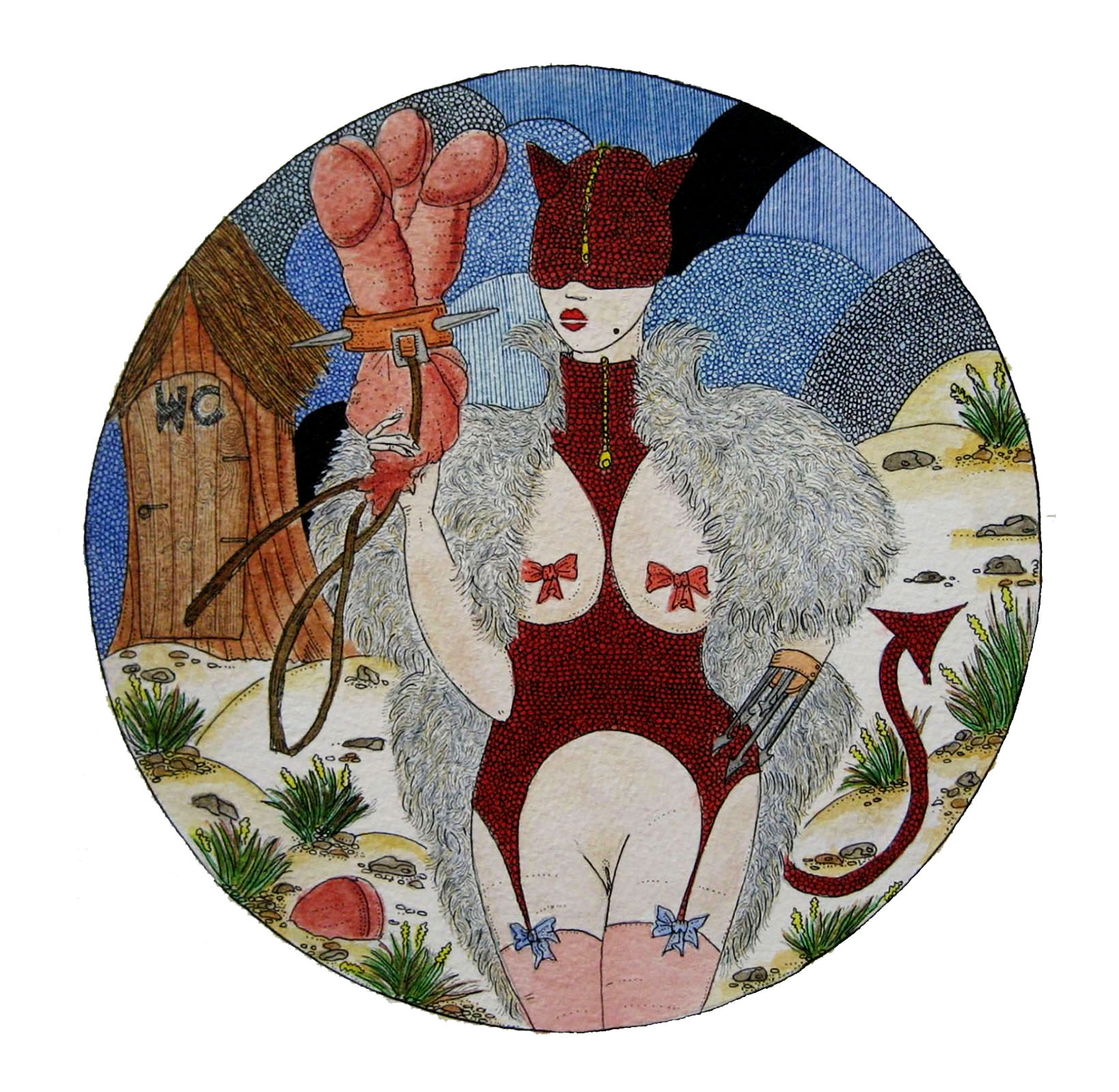 Watercolor and ink on paper function as an avenue to illustrate body mutilations in a safe and free manner. In her earlier works, nude figures wore customized red clothing designed by herself. Using red watercolor and then using black ink to draw tiny circles to achieve the appearance of shagreen, a type of rough rawhide, Webster meticulously created the garments characteristic of her work even today. After developing the concept of specifically tailored clothing, limb structures that resembled advanced weaponry and armor started finding themselves incorporated into her customized details.
In 2017, her ideas of adding weapons to limbs merged with the sexual explicitness of her previous works. This erotic combination came into full fruition through her Alien Erotic Art series. The illustrations for the Aliens series stem from the artist's belief in extraterrestrial life and love for anything science fiction. The serial works quickly developed with new ways to illustrate various limb structures embodying technological advancements or adult toys. Her unique characters, such as "Cunt Buddies" and "Dick Buddies," serve as embodiments of sexual devices and frequently appear in the imaginary reality depicted in her serial art. With endless opportunities for ideas, the secret libraries of the perverse mind can come to life.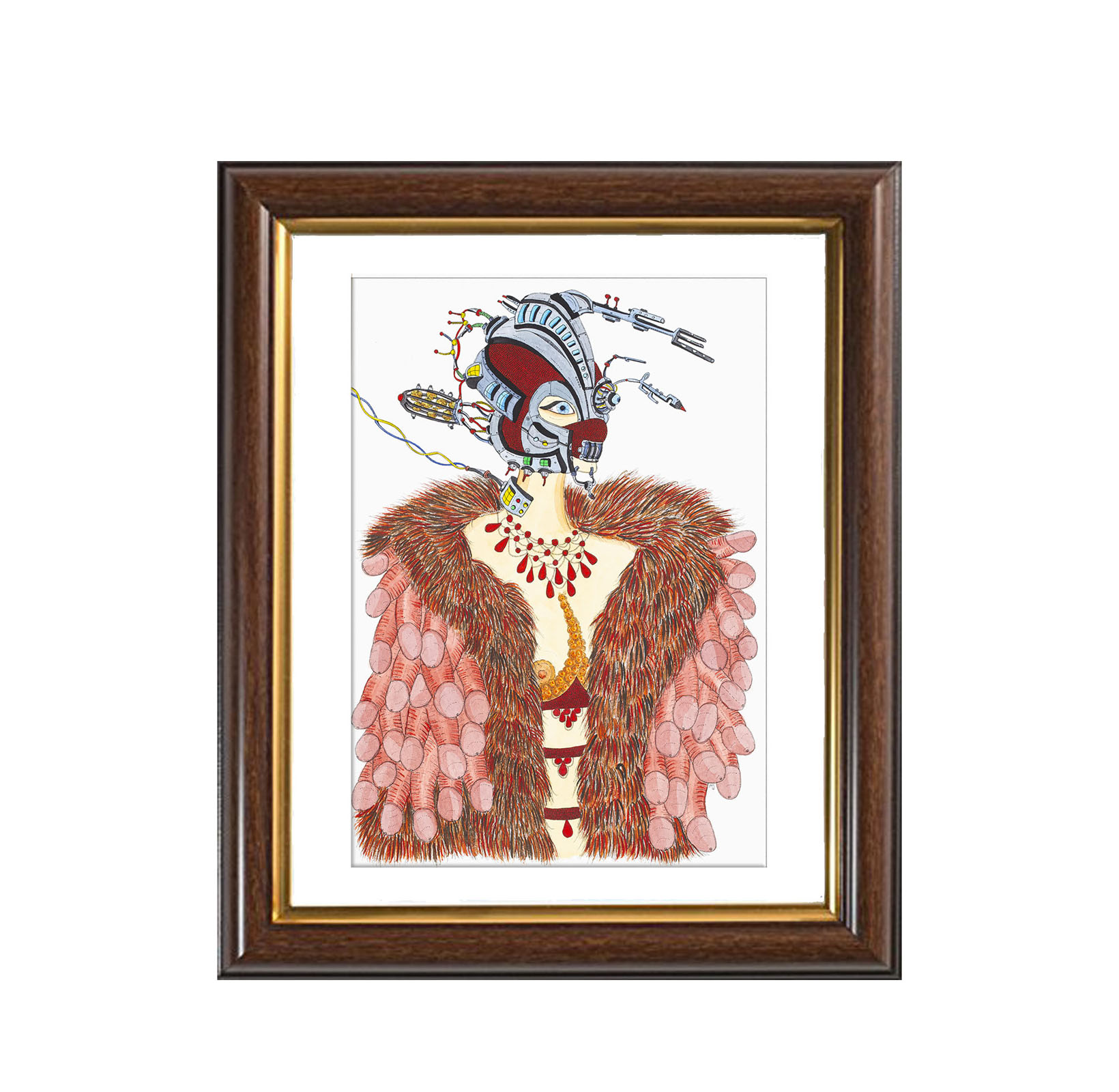 One of her masterpieces from the Alien series is Game of Dicks, a work inspired by a short clip from the popular HBO television show Game of Thrones. The portrait of an Alien warrior illustrates the artist's sensual and lustful version of a fur cloak, a dick cloak. The brave leader pictured in Game of Dicks, like many other Aliens in her illustrations, wears opulent ruby jewelry. Though the image is full of eroticism and imbued with debauchery, Webster finds a way to incorporate her love for elegant gemstones. Science fiction and fetish imagery contrast with the lavish characteristics conveyed through a fur cloak and expensive jewelry.
Webster's alien erotic art illustrations have been part of various group exhibitions in galleries throughout London and New York, such as the Copeland Gallery and Limner Gallery. In 2017, six of her works exhibited in the Lausanne Swiss Art Gallery, where she won the Award of Excellence for Erotic Drawing. One of her most notable accomplishments includes having her alien erotic art published in 2009 when she officially began her art career. Since then, her works have appeared in the publications The World's Greatest Erotic Art Volume 3 and Volume 5 by Erotic Signature.
For Webster, art has no rules. She continuously strives to depict scenes of debauchery through surreal and abstract watercolors and ink pen illustrations. Through nude art, she finds an outlet for making a difference in the portrayal and depictions of the naked human body and sexual acts in art. Mary Webster is the most inventive and one of the most controversial erotic artists we've seen to date, and we welcome her to Art Provocateur Gallery.