Prisoners of Love: An Introduction to BDSM Art
BDSM artwork is truly provocative. Both inside and outside of BDSM culture it receives strong reactions with its evocative imagery. Although often misunderstood historically, in recent years it has become...
BDSM artwork is truly provocative. Both inside and outside of BDSM culture it receives strong reactions with its evocative imagery. Although often misunderstood historically, in recent years it has become increasingly chic to add BDSM art to collections.
Themes of BDSM Art
The main themes of BDSM artwork include an exchange of power, empowerment, gender, and sexual fluidity. It is an evocative and erotic art style that has emerged from underground culture.
Power
At its core, BDSM art is about power. Practitioners derive pleasure from an exchange of power, whether giving up control or taking control. This theme is exemplified by the acronym:
Bondage
Discipline
Sadism
Masochism
Empowerment
During the past 50 years, another theme has emerged. BDSM artwork has become a symbol of empowerment. It helped to spurn the female sexual revolution, as well as revolutionizing gay culture. This combats old misconceptions of BDSM art as being anti-feminist and heteronormative.
Gender & Sexual Fluidity
For decades, BDSM has been ahead of the curve on ideas of gender and sexual roles and identities. It moves outside of concepts like straight, gay, transexual, and traditional gender roles. The gender and sexual fluidity in BDSM disrupt traditional binary identities and roles.
A Brief History of BDSM | Timeline
The concepts of BDSM has been a part of human culture dating back to the eras of pre and protohistory. Throughout this timeline, it's often part of underground culture, with occasional resurgences into more mainstream society.
~4,000 BCE Mesopotamia
The goddess Inanna dates back at least as far as the Uruk period in ancient Mesopotamia. The "Queen of Heaven," Inanna was the goddess of love, procreation, sensuality, fertility, and war. She is said to have whipped her human followers, driving them into a sexual frenzy.
~500 BCE Greece
In ancient Greece, BDSM played a role in sexual culture. It dates back to at least the 5th Century BCE. The Spartan men and women included ritual whipping for sexual pleasure in the Tomba Della Fustigazione (Tomb of Whipping). The walls of the tomb are decorated with artwork depicting BDSM.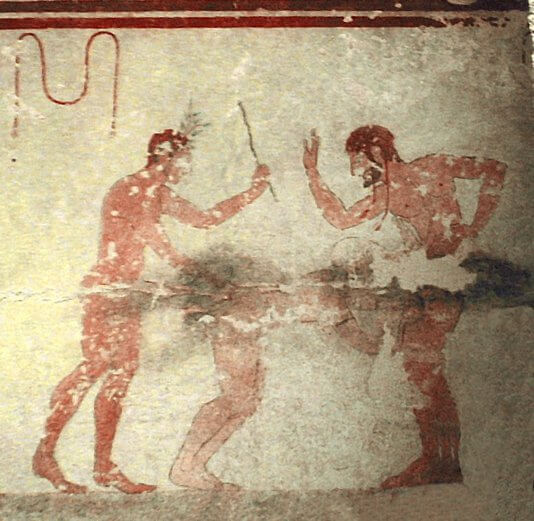 1500s AD Europe
More modern examples of BDSM artwork started popping up in the 16th century. Erotic art and literature gained popularity. The imagery consisted of whipping and reversals of power roles for sexual pleasure.  Servants were featured dominating their masters and mistresses. BDSM art started to pop up in England, France, and Germany.
1789 France
In 1789, the Marquis de Sade released the controversial book 120 Days of Sodom. His work in erotica transformed BDSM artwork. The works were graphic and polarizing to much of society. But they also introduced ideas of sexual pleasure from beating, humiliation, rope bondage, and cutting. The realm of BDSM art was expanded by de Sade's works.
~1850 Japan
The introduction of Japan to BDSM as an art dates back to the late Edo period. Kinbaku, "the beauty of tight bonding," came into being as an erotic art. The ropework used geometric shapes to contrast the natural shape of the submissive's body.
1920 Germany
Following the First World War, people needed a release. The war had taken its toll on Germany physically and financially, and the people needed a release. For many, this release involved joining clubs where BDSM was practiced. The rise of fascism forced this culture into the underground before the Second World War.
Late 1940s USA
In the wake of World War Two and the terror of the Cold War, BDSM once again became a form of release. The underground BDSM scene began to grow in America with the distribution of magazines like Bizarre. In this magazine, BDSM photographer, John Willie, established the basis of the modern aesthetics of the genre.
BDSM photography featured models in high heels, leather, latex, corsets, rope and leather bondage. It also resulted in the rise of the pin-up girl.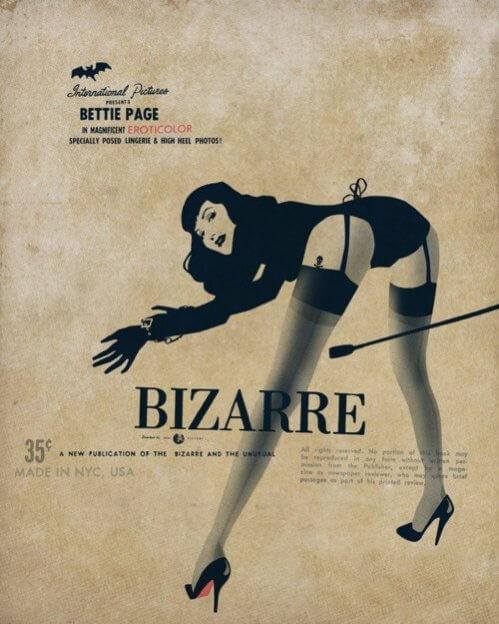 1950s USA
Betty Page, the Queen of the Pin-Ups, was the most prominent model of this new style of BDSM art. She was an icon of the strength of femininity and of embracing female sexuality. She is often credited as being the catalyst of the sexual revolution of the 1960s.
Learn more about the evolution of the pin-up girl in: Contrasting Modern & Vintage Pin-Up Art
In the modern period, this is when BDSM began to transition from the underground to an artistic phenomenon and movement.
1990s
The 1990s did a lot to bring BDSM to mainstream society. The emergence of the internet led to many people's first exposure to BDSM and a spike in its popularity. As well, artists like Marilyn Manson brought attention to the lifestyle and art form.
2011
The release of 50 Shades of Gray. It's not hardcore, and it's certainly not the pinnacle of literature – but its success signifies acceptance of BDSM art by mainstream society. The novel quickly became a best-seller and was adapted into a successful movie in 2015.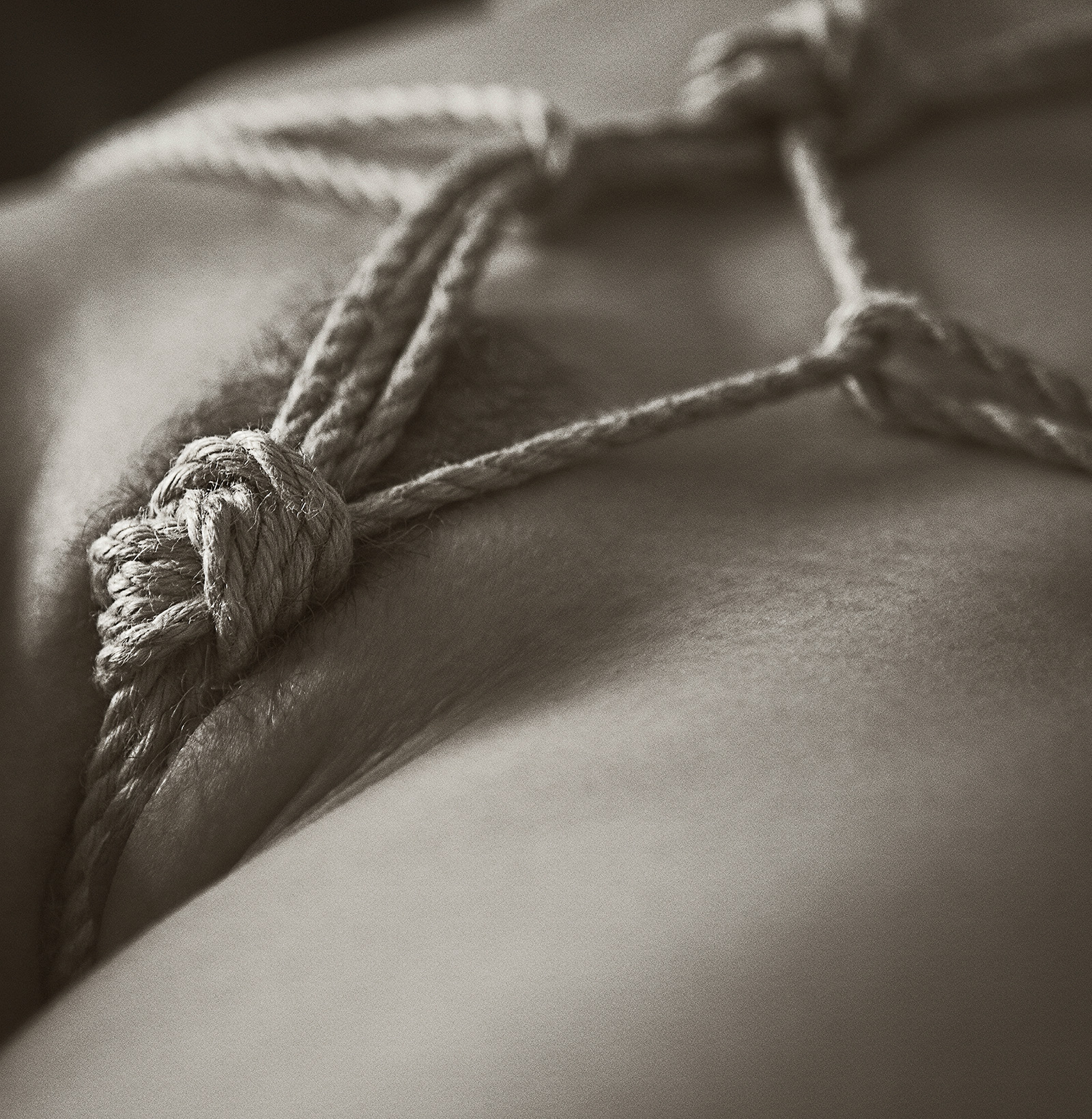 BDSM was no longer just for underground culture, it had been adopted by soccer moms around the world. It showed the world was ready to accept BDSM art, not as a perversion, but as a fulfillment of a sexual and personal fantasy.
Today, there is a rising demand for BDSM art. People are decorating their home with provocative paintings, paintings, and artwork. Much to our pleasure, more BDSM artists are exploring this style in all sorts of mediums than ever before.