The iconic American pin-up girl of the 40s and 50s. Photographs, drawings, and paintings of models intended to be pinned up on the wall. They're famous for decorating the noses of fighters planes and...
The iconic American pin-up girl of the 40s and 50s. Photographs, drawings, and paintings of models intended to be pinned up on the wall. They're famous for decorating the noses of fighters planes and bombers of World War Two. But their origins lay long before that, and they're still popular today.
Although pin-up art didn't get its name until the 1940s, its origins trace back to the later years of Victorian burlesque photography and it's boom in New York during the late 1800s. Burlesque performers used provocative photographs to promote themselves and their shows.
Early pin-up paintings and photographs featured nude or erotic artwork. It went from being a promotional tool to a popular commodity among soldiers in WWI. At the same time, as it was becoming popular in overseas conflicts, film was taking off at home.
Actresses were competing for roles and they followed the example of burlesque performers. They took up proto-pin-up art to increase their public visibility and demand. This introduced vintage pin-up art to the mainstream.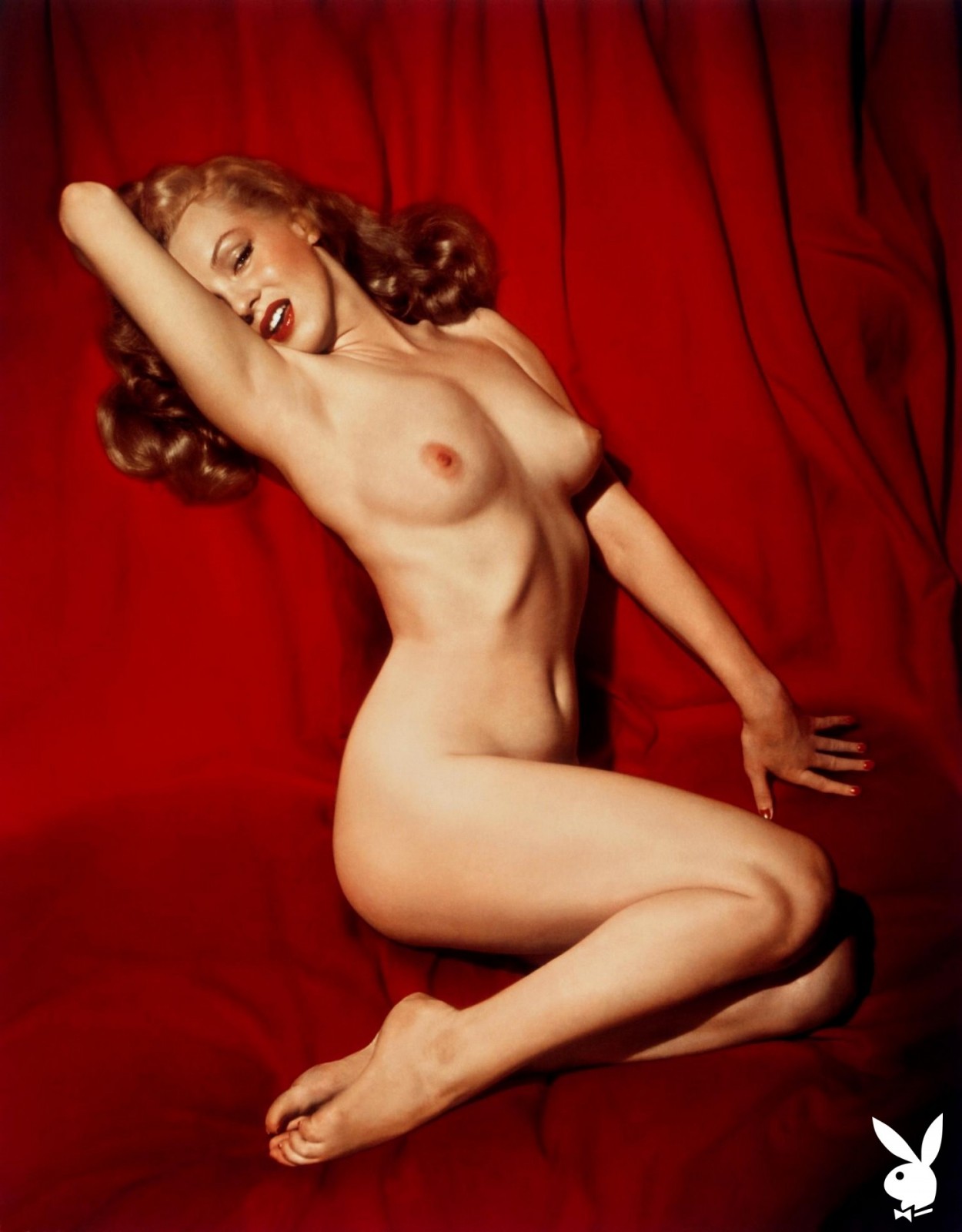 Over a couple of decades, pin-up art grew into its own art style with common looks and purpose.
The Vintage Pin-Up Art Look
The vintage "pin-up look" is relatively simple. Clothing, hair, and makeup are all worn to emphasize and accentuate natural features. While the looks focus on natural beauty, the posing is based on sexuality. The women (and occasionally male) pin-up model poses in provocative poses, usually with a simple backdrop.
Pin-up clothing and apparel compliments the natural curves of the body, usually accentuating the cleavage. The type of clothing is often sexually suggestive. For example, nightwear and lingerie are common themes because we associate them with the bedroom and love-making.
Models may pose in various states of undress as well. Artistic prints depict them about to remove clothing, or completely nude.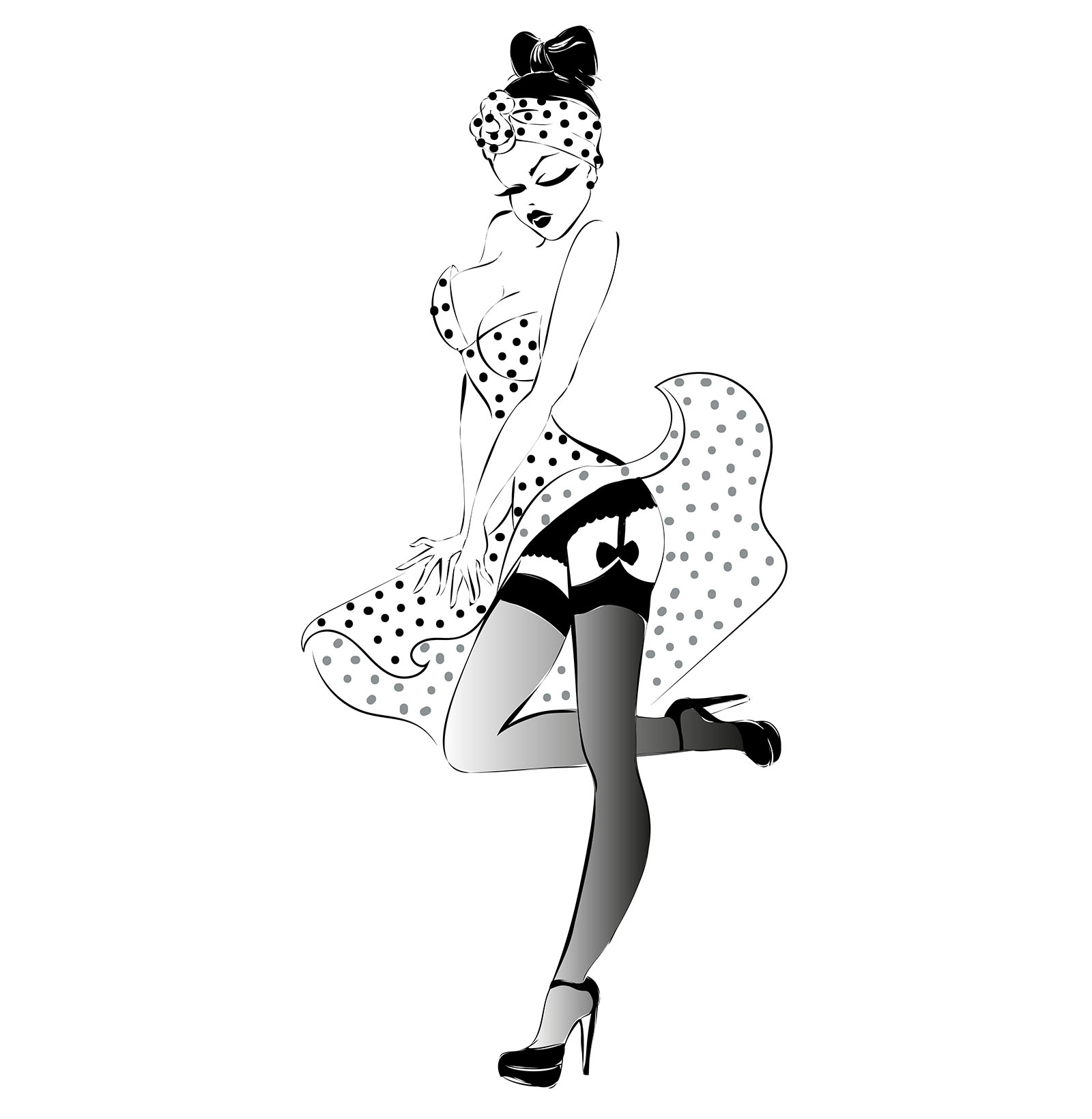 Makeup was used to emphasize natural features. In part, historians credit this to the limited makeup available due to war rationing. Foundations and powders were a key element, sometimes emphasized with blush on the cheeks. Eyebrows and eyes were contoured to make them stand out. And most iconically, the lips were made to look plump, vibrant and full.
Purpose of Vintage Pin-Up Art
The purpose of the pin-up art had some variation as the art form evolved. It started off as a promotional tool for burlesque performers and burgeoning entertainers. Eventually, pin-up artwork transitioned into its own commodity.
During WWII soldiers once again played a key role in popularizing vintage pin-up art. Pin-up images were used to boost morale on the front lines. The US government even took part, asking women to send lipstick kisses on letters to soldiers. These are kisses where the woman applies lipstick and kisses the letter so it leaves a full, plump lip shape – reminiscent of pin-up model makeup.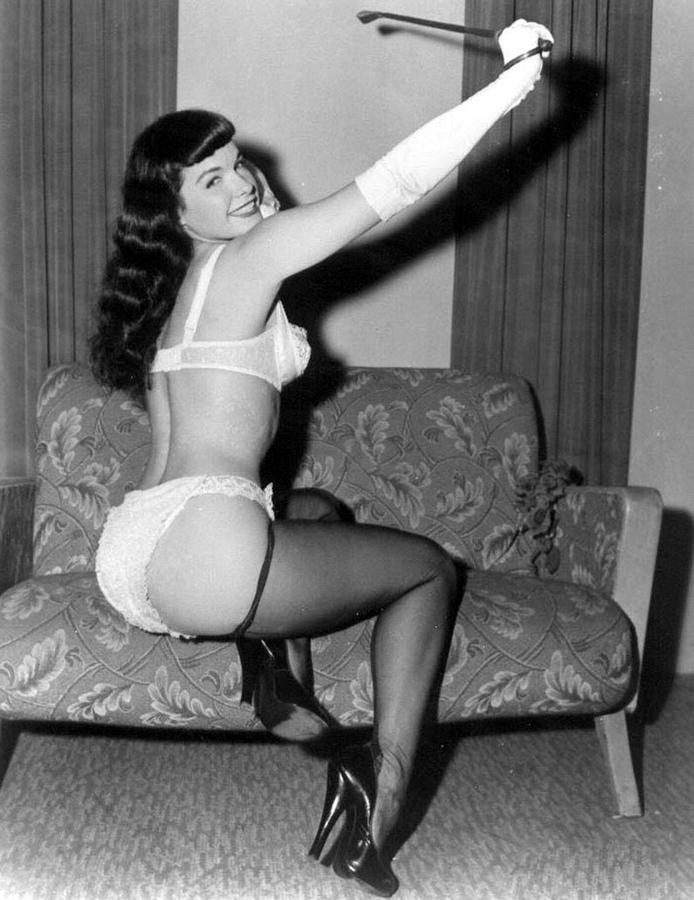 Classic pin-up art went from being used as an advertisement for the model, to being sold as its own artwork on their own and in magazines, or even in advertisements to sell other products. BDSM art magazines gave rise to celebrated pin-up girls like Bettie Page. Often hailed as the "Queen of the Pin-Ups", Bettie Page ushered in a new era of female sexuality.
Heralded as the catalyst to the sexual revolution of the 1960s, Bettie helped bring about the new purpose found in modern pin-up art.
Modern Pin-Up Art & Culture
Visually, the modern pin-up scene has a lot of carry-over from the 40s and 50s. The classic look actually had a bit of a resurgence with the focus on natural bodies and curves over the past decade. The art is still sexual but has more focus on female empowerment and betterment.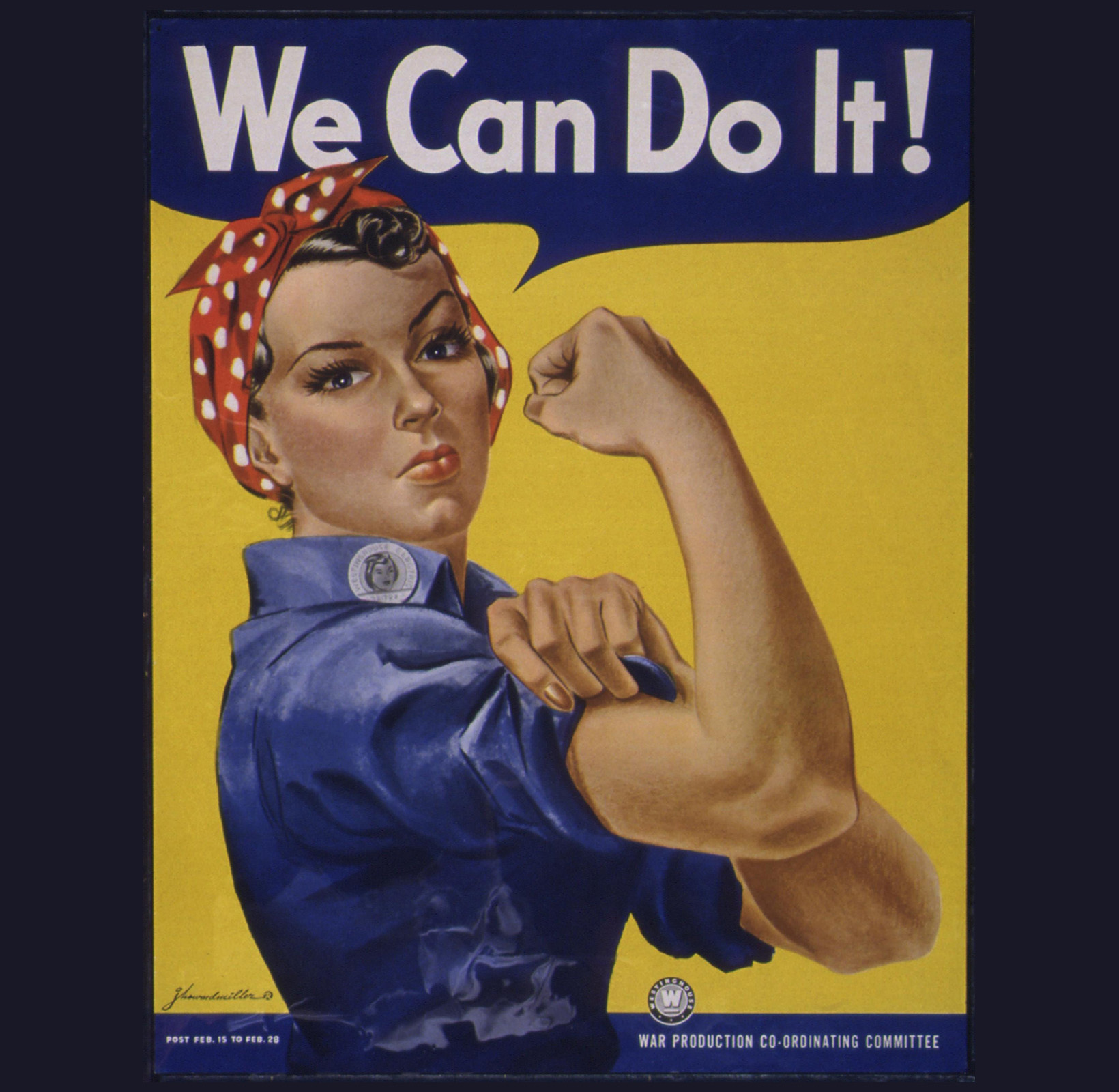 In part, this is exemplified by the importance of inner beauty. Pin-up contests focus on inner beauty, not just cosmetic appeal. Judging considers:
– Originality
– Presentation
– Stage Presence
– Crowd Appeal
Often it is paired with feminism, having helped push the sexual revolution. In feminist art pin-up girls weaponize lipstick, challenging social norms and promoting positive body image. The famous "We Can Do It" stamp is a popular feminist icon today.
It represents women coming into the workforce during the Second World War, an important stepping stone towards gender-equality.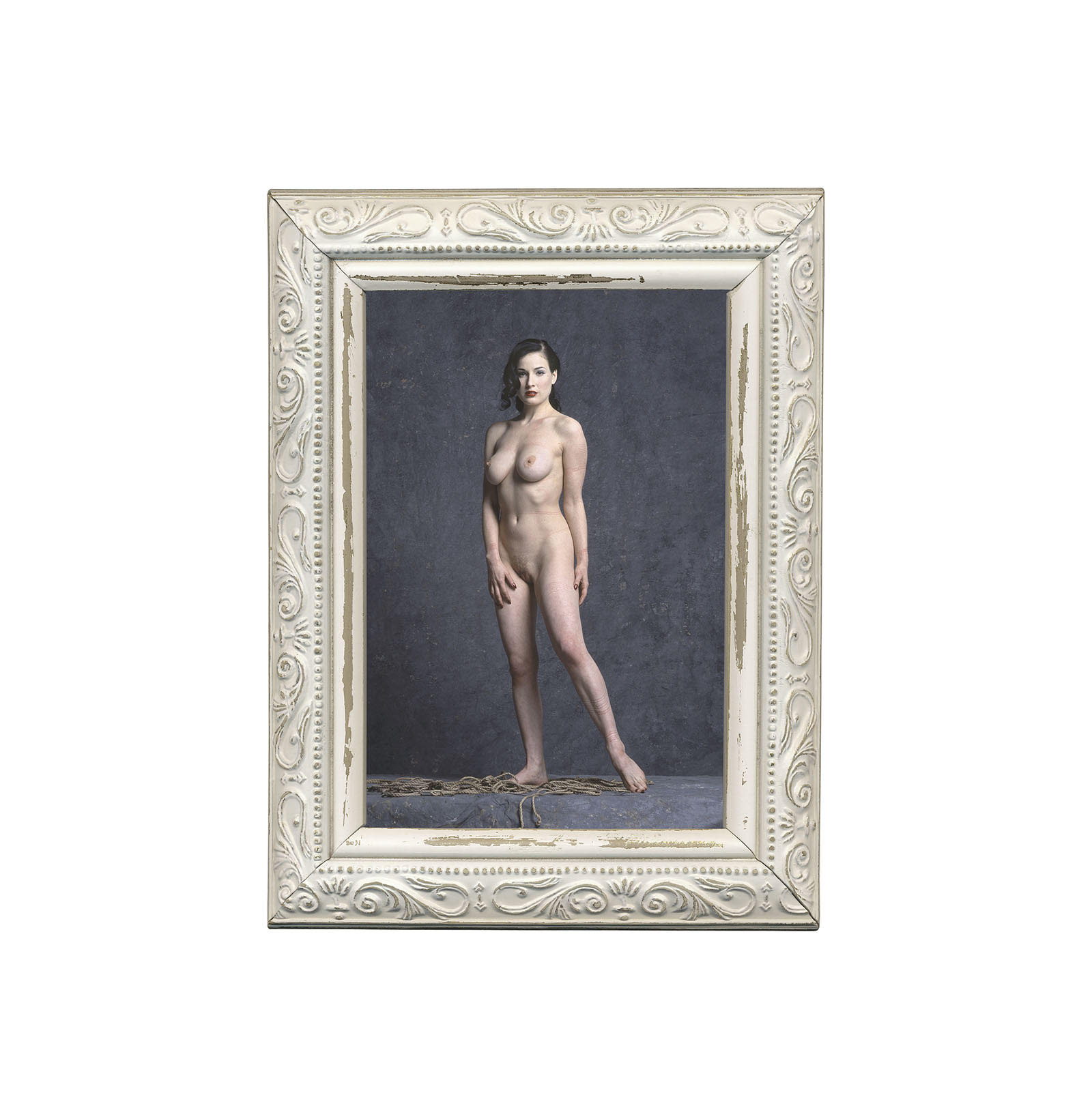 While early actresses helped to spread the genre, many of today's entertainers are pushing modern pin-up art forward. Many pop culture icons, like Dita Von Teese and Lana Del Ray, style their looks after the vintage pin-up look. Katy Perry, for example, makes use of pin-up apparel and makeup styles in her performances and videos.
Modern & Vintage Pin-Up Art For Sale
Explore the Art Provocateur Gallery to shop the most enticing modern and vintage pin-up art for sale. Discover art prints ranging from erotic and nude photography to pin-up paintings. Start building your collection today and learn the tantalizing thrills of decorating with nude art.