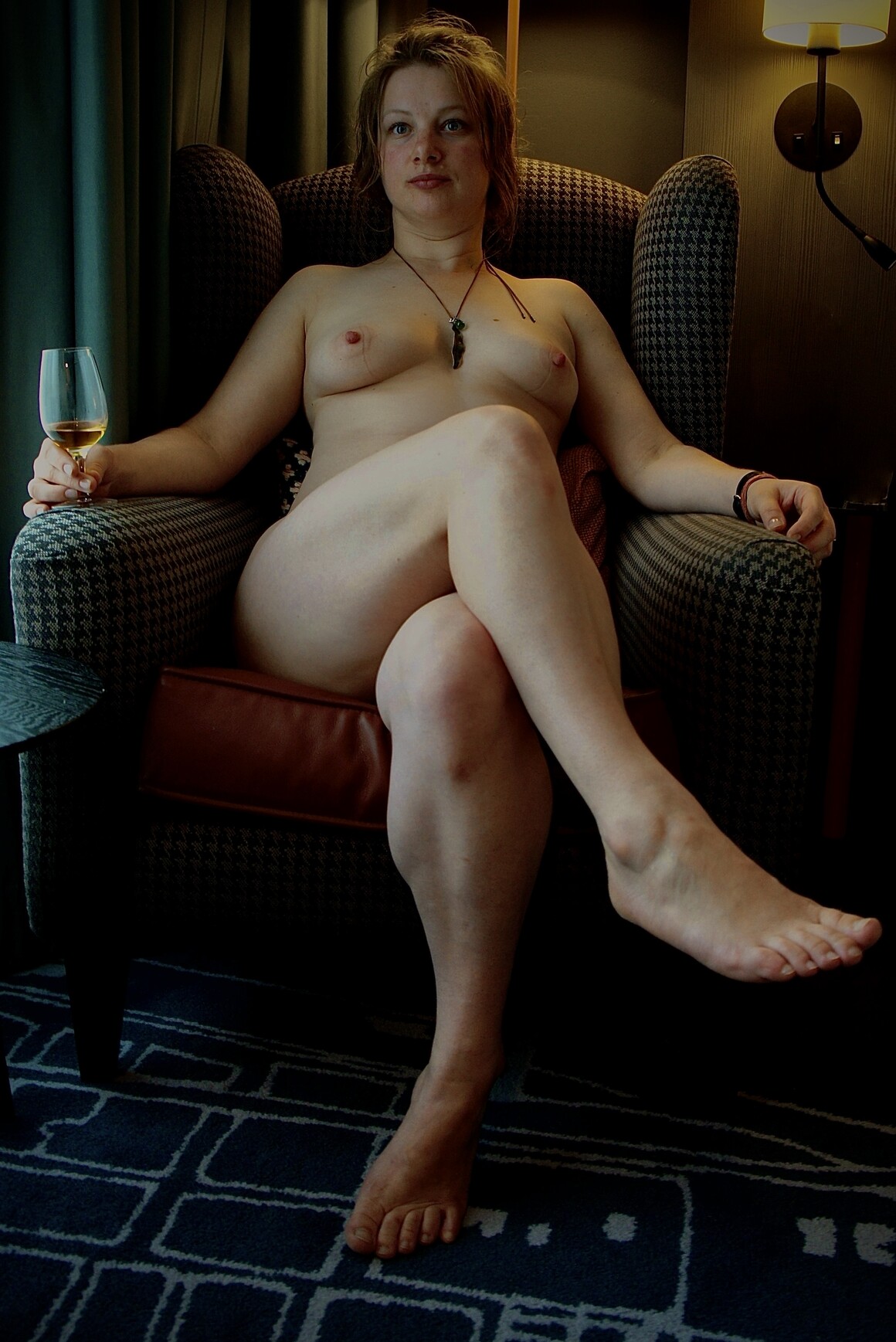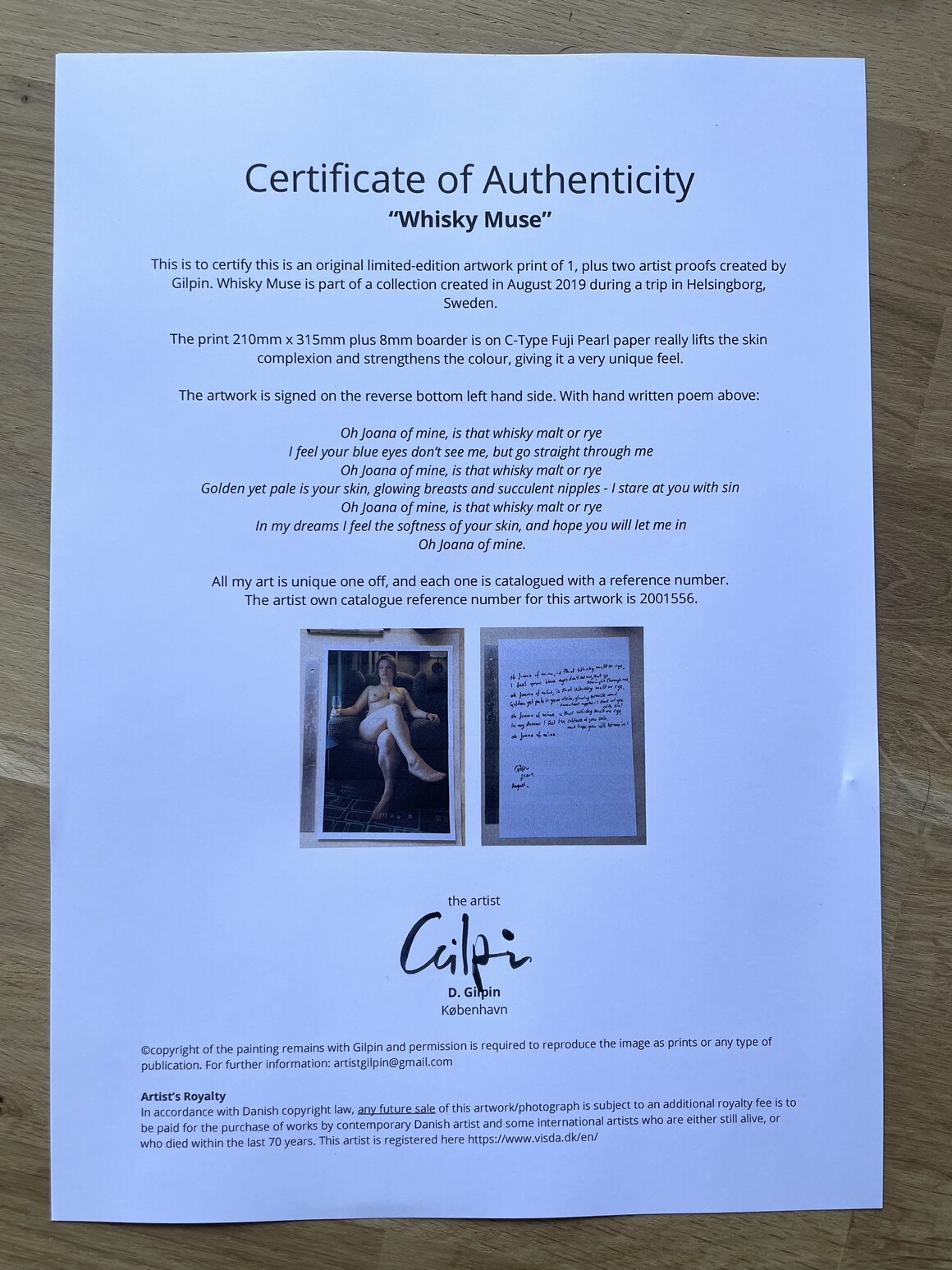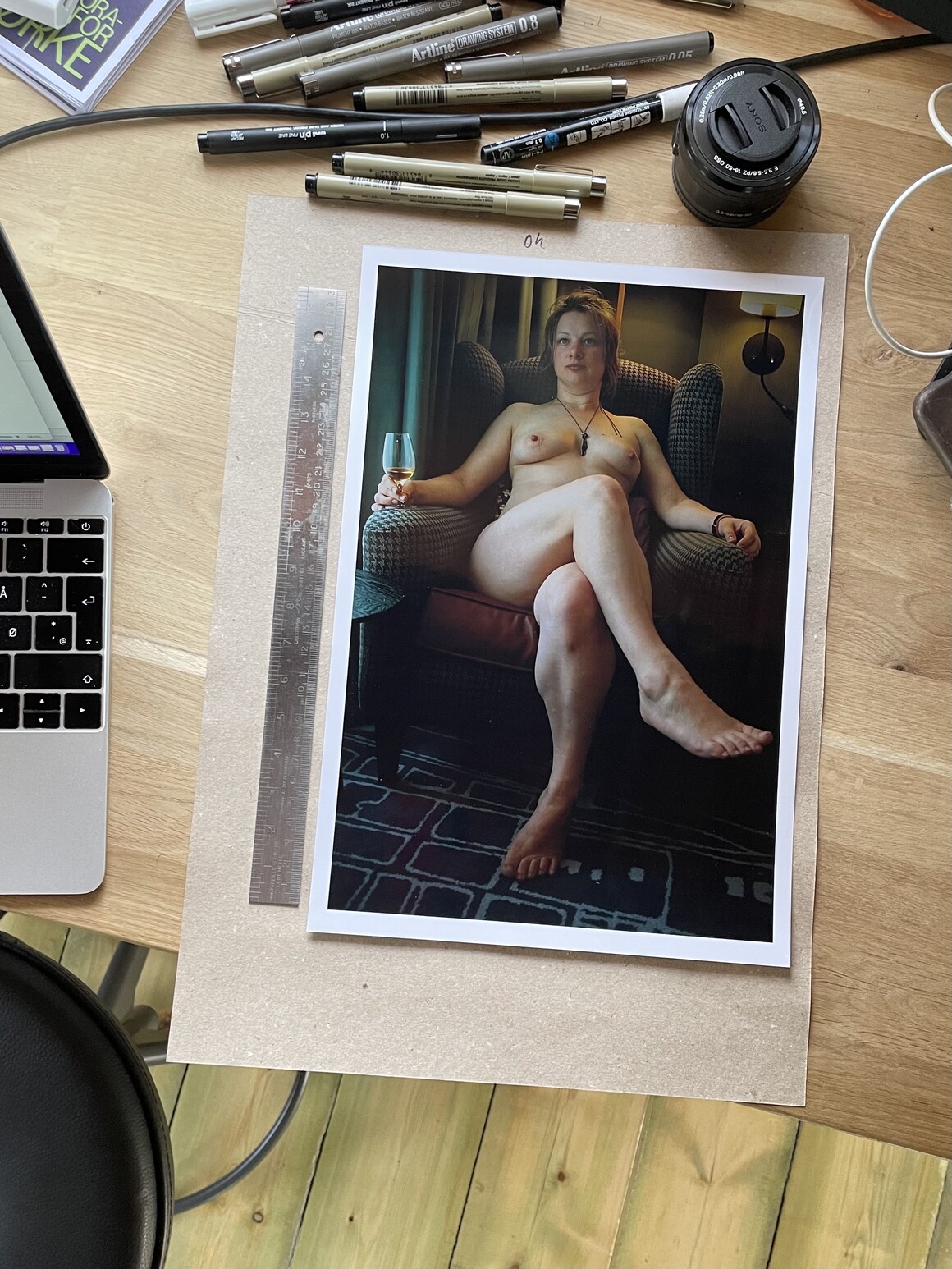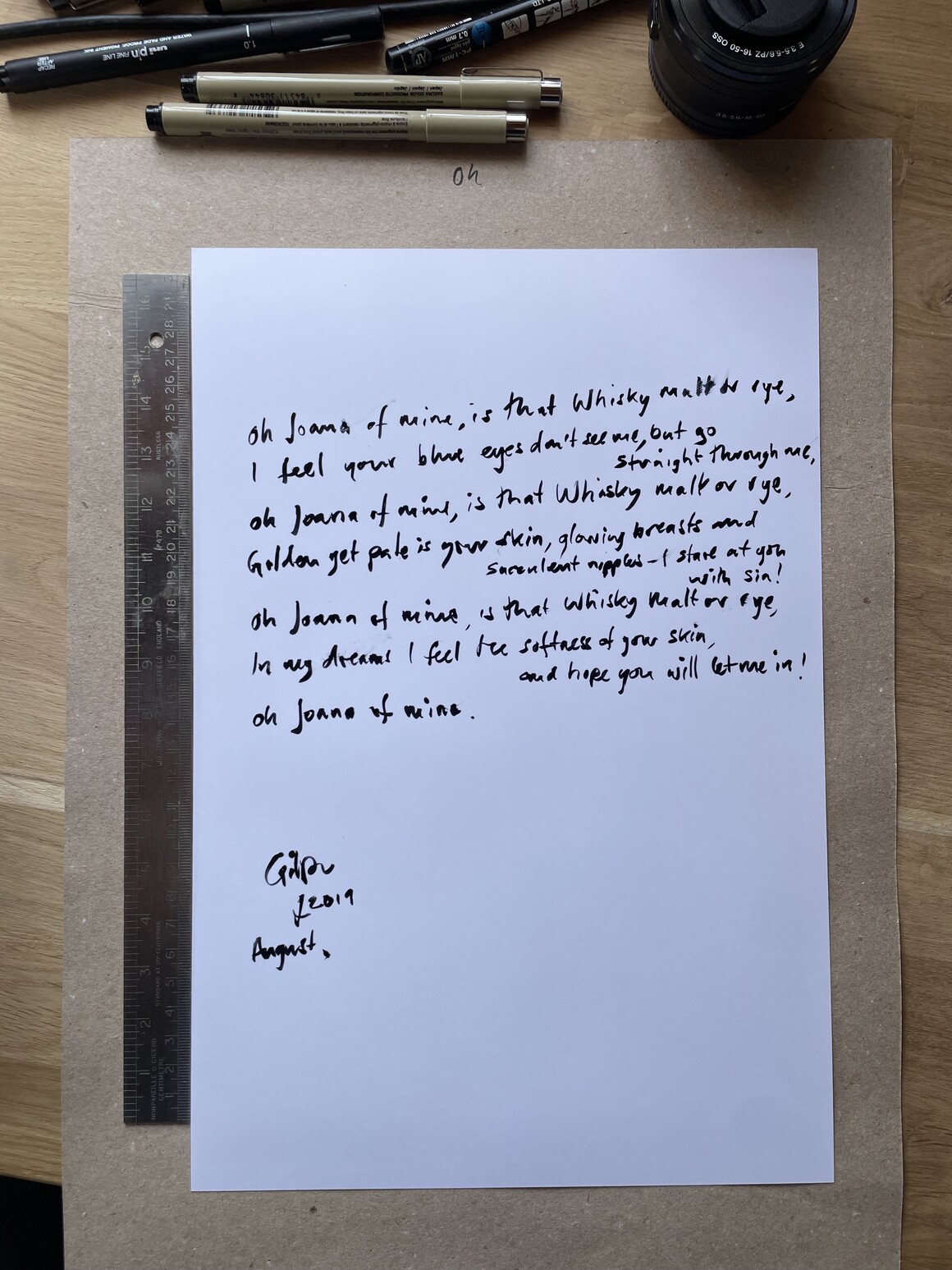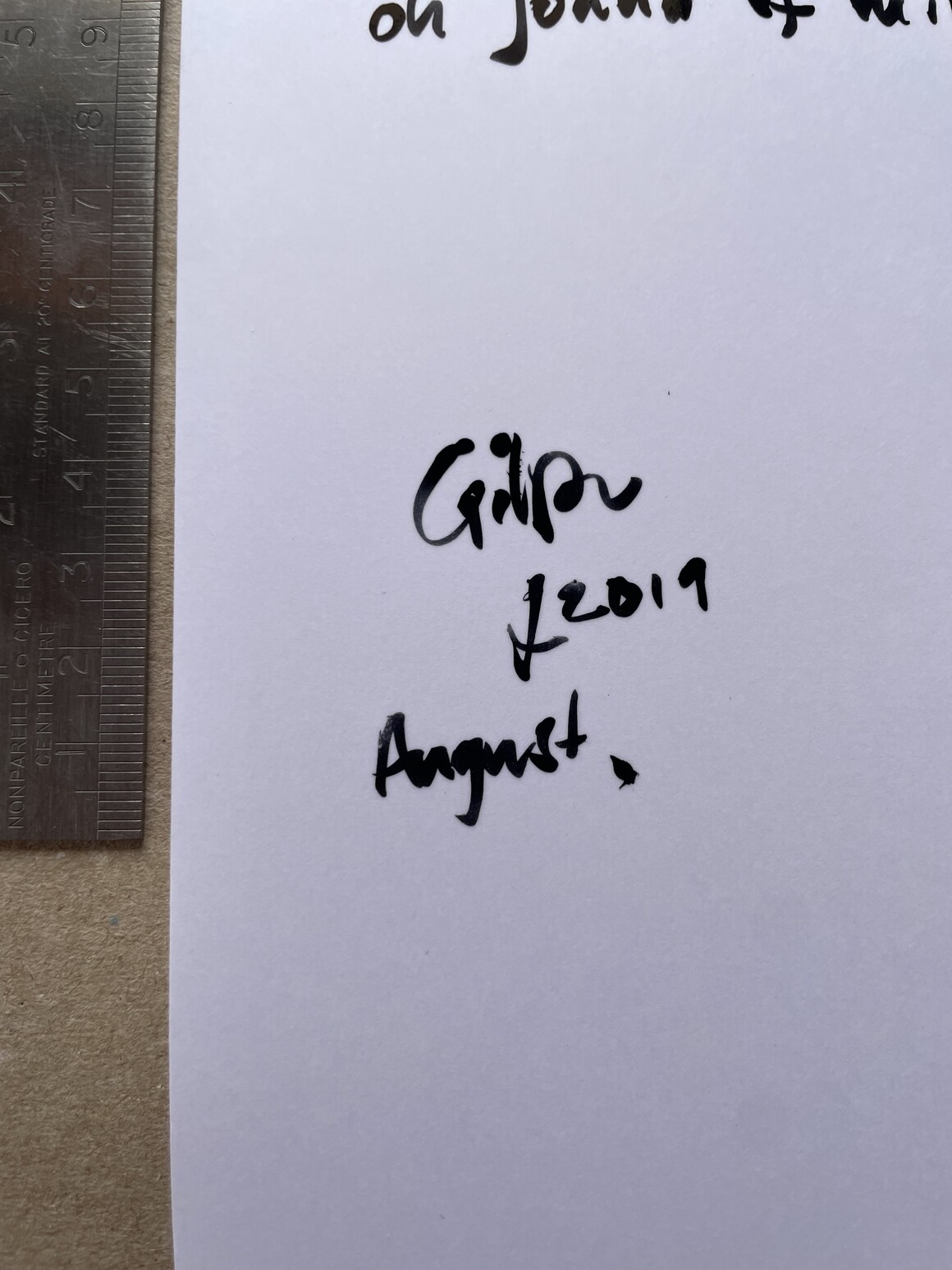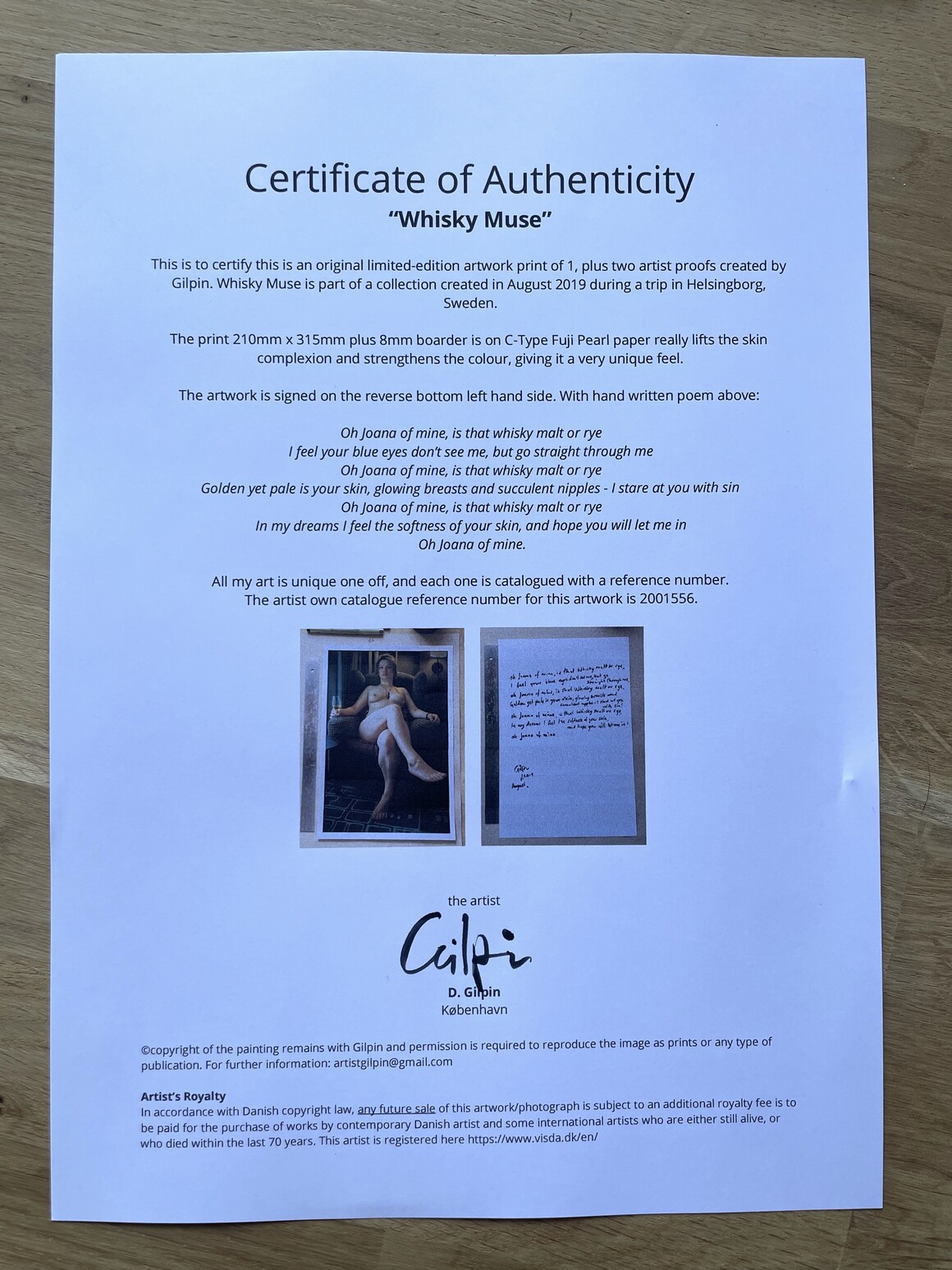 Artwork description
All my works are very personal but this one is a favourite.
"Whisky Muse" is about the strength, the confidence of this woman who is not intimidated. Her sharp blue-eyed stare streaks past you as though you are not there. Her skin is her armour, as her natural beauty strongly radiates out. Mood, colour and light is a hallmark of my works and this one has them all.
Oh missy of mine, is that whisky malt or rye
I feel your blue eyes don't see me, but go straight through me
Oh missy of mine, is that whisky malt or rye
Golden yet pale is your skin, glowing breasts and succulent nipples - I stare at you with sin
Oh missy of mine, is that whisky malt or rye
In my dreams, I feel the softness of your skin and hope you will let me in
Oh, missy of mine.
The photograph comes with a poem handwritten on the reverse, with a slight personal variation. Signed Gilpin and dated August 2019. Taken in Helsingborg, Sweden. It comes with a certificate of authenticity. The image will be sent in a black frame with a white cardboard surround and is ready to hang. However, it is easy to reframe should you choose that option.
This is the perfect artwork for any collector and would go well in a private corner to be appreciated.
Printed on C-Type Fuji Pearl paper really lifts the skin complexion to give a realistic feel to her body. It also adds a depth to the image.
Dimensions: 210mm wide x 315mm tall PLUS circa 8mm white border. The actual print size is 226mm x 335 mm.
______________
Artist's Royalty
In accordance with Danish copyright law, any future sale of this artwork/photograph is subject to an additional royalty fee to be paid for the purchase of works by contemporary Danish artists and some international artists who are either still alive or who died within the last 70 years. This artist is registered here https://www.visda.dk/en/
Shipping Details
The photo will be sent in a simple black frame so to protect in transit. It will have easy access to reframe. It will be bubble wrapped with a protective layer across the image to prevent damage or breaking. Then the artwork will be place within a cardboard layer to protect it further and boxed. Shipped using international courier with tracking.
About the Artist
If you're seeking something distinctive, collectible, and uniquely appealing, a Gilpin artwork might be just what you're looking for.
Gilpin, an internationally recognized artist, specializes in crafting exclusive pieces. With a versatile natural talent spanning various mediums, his artwork stands out for its refreshing uniqueness. Gilpin employs a blend of drawing, painting, inks, photography, and Polaroid techniques to fashion unparalleled one-of-a-kind creations. Each work is personally signed and accompanied by a certificate of authenticity, complete with its background narrative.
His art possesses a raw and evocative quality, often featuring an exquisitely experimental touch that mirrors the artistic journey itself. Characterized by strong imagery and shapes, his pieces forge a profound connection with the subject. On occasion, a succinct poem or words grace the reverse side of the image or frame.
Gilpin's photography evokes a captivating mood, skillfully employing lighting for maximum effect. Notably, he defies mass production, underscoring the limited nature of his creations.
In a notable showcase of his work, Gilpin recently exhibited at Galería Aragon 232 in Barcelona in late 2020.
more »
Limited Edition
ID8498
Whisky Muse
By Gilpin
Photography
From a Number of 3
Size: 23.5 x 18 x 1.5 inches (actual image size)
This artwork is sold unframed
Ready to hang
Signed and numbered on the back
Numbered Limited Edition
Certificate of Authenticity included
Style: Boudoir, Storytelling
Subject: Female
Returns and refunds
100% Money back guarantee. If you are not completely satisfied with your order, send it back in its original packaging within 14 days and receive a full refund. No questions asked. For full details, click here.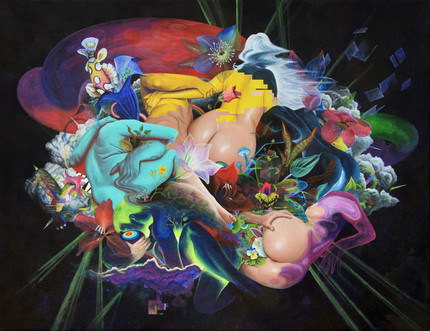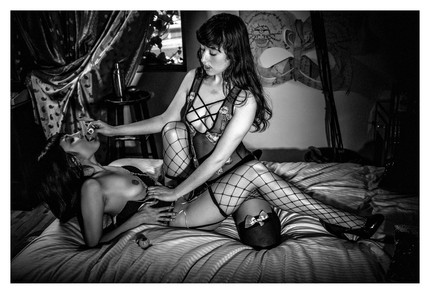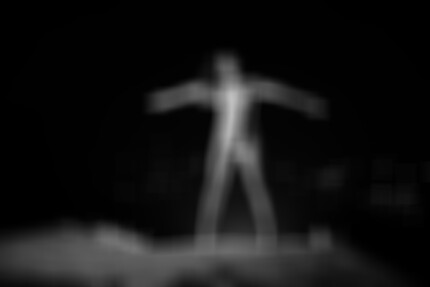 Witch Mountain I
$279.00P8151